The American Association of University Women (AAUW) is the nation's leading voice promoting equity and education for women and girls. Since our founding in 1881, AAUW members have examined and taken positions on the fundamental issues of the day — educational, social, economic, and political.
Mission
To advance gender equity for women and girls through research, education, and advocacy.
Vision
Equity for all.
Values
Nonpartisan. Fact-based. Principled. Inclusive and Intersectional.
---
End of Year Installation Lunch
Held at J Mark's Restaurant in Pompano Beach
After a delicious meal and time to chat with members and guests Patricia DeWitt, AAUW-FL President, spoke about AAUW 's Mission at the Local Level. AAUW is working diligently to preserve the progress women have made over the last few decades. As branches, we must focus on our mission of equity for women and girls. Nothing is guaranteed. You can do your part by being an active branch member and bring ideas for meetings and speakers for future events. Enjoy the pictures and join us for future meetings!
---
Dollars 4 Scholars Annual Fundraising Luncheon A Big Success!
On March 19, 2022 we held our annual fundraiser at Galuppi's Restaurant in Pompano Beach. Close to 50 participants enjoyed an exciting presentation by our speaker, S.L. Menear, great discussions with friends and an excellent meal.
Retired airline pilot Sharon Menear began her career as a flight attendant and later, after training, became a pilot in 1980. After retirement, Sharon wanted to try her hand at writing a novel. Her favorite novels have always been thrillers, so she chose to write in that genre. She discussed her rise to become a pilot and how she then became a very successful mystery writer. We were also delighted when Sharon shared plots of some of her latest works.
And, most importantly, our fundraising luncheon raised close to $3000 with donations from members, friends and raffle items at the luncheon. All funds are used for scholarship support to local women entering their junior or senior year of college.
See attached pictures and luncheon program.
Don't miss our exciting luncheon planned for March 11, 2023. Visit this website for details.
---
Annual Toys 4 Tots Luncheon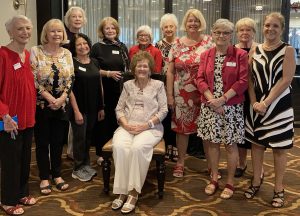 Great food, great friends, great gifts! Thanks to all who attended and donated a gift for young children. Always a wonderful event and heartwarming way to end another year.
Happy New Year to all!